Today our favourite celeb super-model turned actress, Cara Delevingne, celebrates her 24th birthday, so to celebrate we've complied a list of the 24 reasons we love her.
1. Her eyebrows.
We still can't get over how perfect they are. Need I say anymore on this one??
2. She's got some crazy tattoos.
From a lion on her finger, to the words 'bacon' and 'made in england' tattooed on the soles of her feet; Cara is no stranger to the ink gun. On the set of newly released film Suicide Squad, she let fellow cast member Margot Robbie (aka Harley Quinn) tattoo a bunch of smiley faces on her toes which they called #toemoji. We love it.
3. She's completely smitten with St Vincent.
We're getting some major couple envy of Cara and her super cute girlfriend, St Vincent. Having been dating well over a year, Cara has admitted on numerous occasions that she's completely in love. There's also been rumours of a recent engagement. Can we get an awww?
4. She can rap.
She showed off her street cred recently when taking on Dave Franco and James Corden on The Late Late Show's Drop The Mic feature. Obviously she won.
5. She's in T-Swift's #girlsquad.
Not only does she hang round with some major a-listers, Cara is in one of the biggest #girlsquads since the Spice Girls. Taylor Swift & co are the ultimate friend crushes and we SO wish we were included. They appeared in Taylor's Bad Blood music video, walked the catwalk on her world tour and recently spent thanksgiving together. Not even slightly jealous.
6. She's crazy stylish.
On countless occasions Cara has given us some serious style inspo with her sassy outfit choices. Whether she's dressed up in Chanel orkeeping it cool in Topshop, she's completely fearless with whatever she wears and always looks uber-cool.
7. Her makeup is always on point.
Alongside her flawless style, her makeup is always on point and we've yet to see a style that she doesn't pull off.
8. She can drum.
Another skill to add to her list of ever-growing talents is drumming. She played at a Charlotte Tilbury event in 2013 and even showed off her talent in a YSL advert in 2015.
9. She can sing.
As well as drumming she's also amazingly good at signing, even popping up in a Chanel ad dueting with Pharrell.
10. She's not scared of a career change.
She switched from modelling to acting and landed her first major role in the 2015 flick Paper Towns. She recently starred in Suicide Squad alongside a pretty awesome cast.
11. She's bessies with Karl Lagerfeld.
Not only is she best mates with the head of Chanel, but she often appears in their shows and is seen wearing their clothes. Too cool.
12. She loves dogs.
Cara is a huge animal lover, just like us, and has a seriously cute puppy named Leo. She even took him to the Chanel Haute Couture Spring Summer 2016 Show in Paris where he rubbed shoulders with some major celebs.
13. She's loves a good time.
Whatever she's doing she always looks like she's having the best time.
14. She loves fast food.
She's not afraid to admit she loves a good burger. Who doesn't? It's nice to know that even the world's top supermodels have a treat day too.
15. She drunk texts Prince Harry.
Yep, she recently admitted to drunk texting everyone's favourite Prince. Not fair.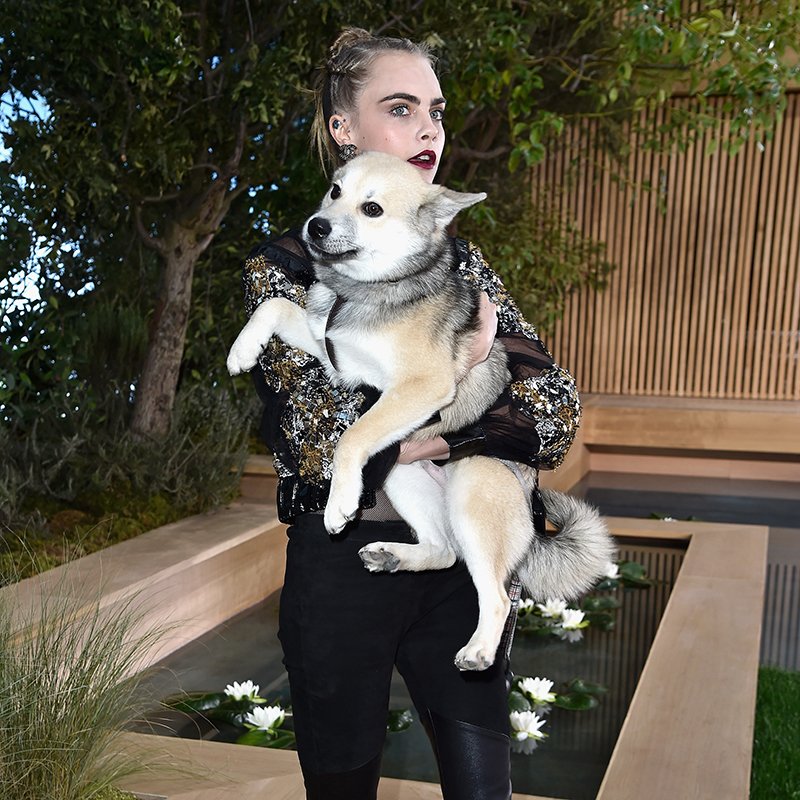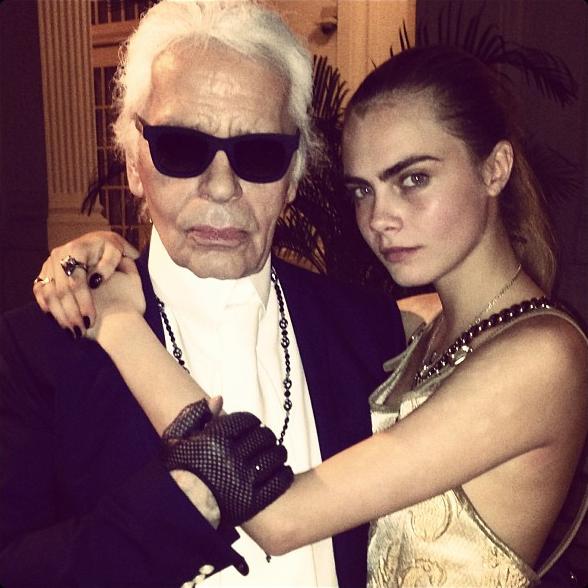 16. She's not afraid to get sassy.
In an interview for her film Paper Towns, Cara was faced with some rather rude interviewers and let her sarcastic humour go to town. She also had some Twitter beef with GOT's Richard Madden when he badmouthed her during an interview. Go her.
17. Her poses.
From the classic tongue out shot to her cross-eyed selfies, we can't get enough of her crazy poses. They ooze confidence and scream cheeky; we love it.
18. Her shoes.
Cara is always sporting some seriously cool shoes. Whilst she loves playing it cool in a pair of trainers, she's also not afraid to rock a high heel. She loves a good pair of peep toes so we reckon she'd love our new Keisha Peep Toe Ankle Boot.
19. She makes fun of herself.
She's no stranger to poking fun at herself and often posts memes, gifs and pictures to her social media laughing at herself. Whilst most celebs wouldn't dream of doing it, confident Cara simply doesn't care.
20. Her humour.
Her weird sense of humour makes us love her even more. She recently told how she played tricks on the girls from Haim and Kesha at T-Swift's thanksgiving sleepover. Amazing.
21. She's a family gal.
Cara has two equally stunning sisters who she often posts pictures of to her instagram alongside her seriously cute nieces.
22. She always keeps it real.
Whether she's revealing TMI in interviews or being quoted saying something hilarious; she always stays grounded. We love how fame hasn't changed her.
23. Her crazy friend list.
There are tons of famous a-listers that Cara considers close friends. From Kate Moss, to Rihanna, to Harry Styles to Kayne & Kim; she knows everyone. Can you even imagine her contact list?!
24. Her brows.
So good we're mentioning them twice.
HAPPY BIRTHDAY CARA!